FOR IMMEDIATE RELEASE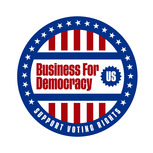 American Sustainable Business Network Launches National and Multi-State Campaign to Address the Role of Business in Repairing Democracy
WASHINGTON, D.C. (July 6, 2022) — Today, American Sustainable Business Network (ASBN), a movement builder organization committed to inform, connect, and mobilize the business and investor community toward a sustainable economy, launched Business for Democracy, a national campaign to raise the trusted voice of small business on the need to strengthen and protect American democracy.
"It has become clear that the role of businesses, large and small, in supporting inclusive democracy is increasingly pertinent," said David Levine, President and Co-founder at ASBN. "ASBN has long championed inclusivity and equity as enduring principles on which a healthy economy is founded. A functioning, free and fair democracy is an indespensalbe tool to achieving such a landscape. We believe bold changes must be made to protect American democracy, and businesses can lead the way."
At the local level, nine state Business for Democracy collaboratives will launch to raise awareness among voters leading up to Election Day and call for Congressional action to ensure a fair and free democracy. The state collaboratives, composed of business organizations and individual businesses, will urge policymakers to pass legislative reforms to strengthen democracy and restore trust within the American people.
"A strong democracy is essential for a vibrant entrepreneurial economy," said Frank Knapp Jr., Director of Business for Democracy at ASBN and President and CEO of the South Carolina Small Business Chamber of Commerce. "Small business owners know what happens under autocracy and one-party rule. Protecting democracy and our economy is on the ballot this November."
Failing to protect the democratic process will silence the voices of small business owners, placing the ability to successfully run a business and the welfare of its employees in jeopardy. Business for Democracy's joint state-to-state advocacy efforts draw the connection between a strong democracy and a thriving economy that accounts for the needs of all stakeholders.
The Jan. 6 hearings have shown the fragility of our nation's democracy and how easy it is for supporters of autocracy to deny the ability of voters to pick their President and Vice-President under the current Electoral Count Act.
Several states have proposed or passed laws that threaten democracy by establishing the ability for state legislators to nullify local election results if they do not agree with the decision. Next year, the U.S. Supreme Court could rule that this threat to free and fair elections is Constitutional, a decision that would accelerate the country's slide into autocracy.
Business for Democracy is calling on Congressional candidates to support reforming the Electoral Count Act, the passage of the John Lewis Voting Rights Advancement Act, and the Freedom to Vote Act. While a bi-partisan group of Senators are drafting a bill to reform the Electoral Count Act, the other two Acts failed in the Senate this year.
"We will make our voices heard and we hope to make protecting democracy a votable issue this fall," said Knapp. "Our democracy and economy are at stake."
The first wave of collaboratives launched today in CA, AZ, OH, PA, and NC with collaboratives in NV, WI, MI, and GA launching later this summer.
To learn more about Business for Democracy, visit www.businessfordemocracy.us.
About American Sustainable Business Network
American Sustainable Business Network (ASBN) is a movement builder in partnership with the business and investor community. ASBN develops and advocates solutions for policymakers, business leaders, and investors that support an equitable, regenerative, and just economy that benefits all⁠ – people and planet. As a multi-issue, membership organization advocating on behalf of every business sector, size, and geography, ASBN and its association members collectively represent over 250,000 businesses across our networks. ASBN was founded through the merger of the American Sustainable Business Council and Social Venture Circle.
Media Contact:
Aleta Edwardsaleta@asbnetwork.org 404-547-3353
Frank Knappfknapp@scsbc.org803-600-6874