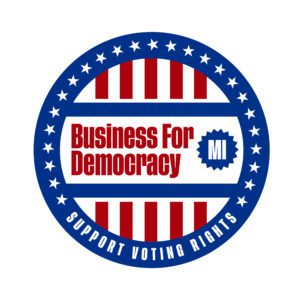 For Immediate Release
November 7, 2023
Contact:
Frank Knapp, 803-600-6874, businessfordemocracyus@gmail.com
Hanna Schulze, 616-402-4099, hanna@peoplefirsteconomy.org
Grand Rapids, MI—Voters in three Michigan cities—East Lansing, Kalamazoo, and Royal Oak—have approved ballet measures to use ranked choice voting in future municipal elections if state law is changed to allow it.
According to FairVote, ranked choice voting has now won 25 such city elections in a row, attesting to the growing popularity of this election method.
Business for Democracy Michigan leader Hanna Schulze, President of People First Economy in Michigan, applauded the approval of ranked choice voting in East Lansing, Kalamazoo, and Royal Oak.
"Voters in these three cities cast their ballots in favor of a stronger democracy," said Schulze.  "Ranked choice voting results in elected officials that are focused on solving problems, listening to all voices in their district, and are better able to spend their time in office serving their community instead of fundraising for the next election. Ranked choice voting is good for Michigan small businesses, and thriving small businesses put people first – when we protect democracy and put people first, we all win."
Business for Democracy national director, Frank Knapp Jr., sees the voters of these Michigan cities calling for democracy to be protected.
"Instead of candidates winning with only a plurality of votes, sometimes a very small percent of all votes, ranked choice voting results in consensus and even majority-winning candidates," said Knapp.  "By letting voters rank their preference on the ballot, democracy is better served with the result.
"It is now time for Michigan legislators to allow municipalities to use ranked choice voting. We believe that this is an important step in protecting democracy which is essential for a vibrant entrepreneurial economy," Knapp said.
Business for Democracy is a campaign of the American Sustainable Business Network.
###